1. Quick Start Guide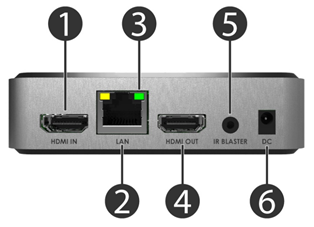 1) Connections
| | |
| --- | --- |
| 1 | HDMI Video Input |
| 2 | Ethernet LAN Port |
| 3 | Network Activity Indicator |
| 4 | HDMI Video Output |
| 5 | Infrared Signal Output (Future) |
| 6 | 5V/2A DC Power Input |
a) Display
Connect the KB1200 HDMI Output to the Display using the HDMI cable supplied.
b) Network
If available, connect an Ethernet network cable to the KB1200 LAN socket from your network.
c) Power
Connect the supplied AC adapter to the KB1200 and plug the adapter into an AC outlet.
d) Mouse & Keyboard
A mouse is required for setup using the On-screen Display (OSd) menus. A keyboard is recommended as well.
2) Power On
a) Startup
The KB1200 starts automatically when power is applied. On first start, the KB1200 will attempt to connect to the cloud server for authentication. If a network connection is not available, the device will default into trial mode.
b) Standby Screen
By default, the KB1200 will display the Basic Mode standby screen on first start.
3) Operation
a) Network Connection
If the KB1200 was connected to a network via Ethernet, users must also be connected to the same network in order to use the device. Otherwise, refer to the Hardware Configuration guide for instruction on connecting the KB1200 to a Wi-Fi network or activating the Hotspot function.
b) Screen Mirroring
Start a screen mirroring session by installing the KLIKConnect application (Win/Mac/Chrome) or by using AirPlay (Mac/iOS). Select the KB1200 by name to start a screen mirroring session.